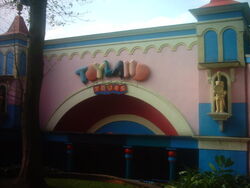 Toyland Tours was a former attraction in the Talbot Street area of Alton Towers theme park, Staffordshire, England. The attraction was opened in 1994, replacing Around The World In Eighty Day.
The ride took riders on a boat tour of a toy factory, past scenes of a Snailextrics circuit, Bouncy Castles (with the castles doing the bouncing), the Sega character Sonic the Hedgehog and others. The soundtrack to the ride, composed by Graham Smart, was available to buy in the park on tape and CD.
Community content is available under
CC-BY-SA
unless otherwise noted.