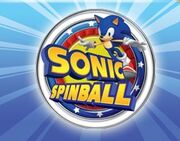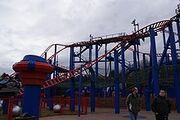 Sonic Spinball (previously known as Spinball Whizzer), is a steel spinning roller coaster made by Maurer Söhne of Germany and sponsored by SEGA. The ride is located in the Adventure Land area of Alton Towers in Staffordshire, England. It's based on SEGA's number one franchise Sonic the Hedgehog. "Sonic Spinball" itself was an early pinball game released for Sega's Mega Drive, Game Gear and Master System systems, which is referenced in the ride's theming.
Originally opened in 2004, the ride was known as Spinball Whizzer and featured a loose pinball machine theme. The name was a pun on the song Pinball Wizard by The Who. It was decided in late 2009 that the ride would receive sponsorship. The roller coaster was therefore given a red and blue track repaint; new decoys, signage and audio (with the station announcements done by Sonic's then-new voice actor Roger Craig Smith).
The ride re-opened to the public on 13 February 2010 during the park's February half term event. A Sonic-themed room was also made available at the Alton Towers Hotel, which features various playable Sonic games and wallpaper based on the upcoming Sonic the Hedgehog 4 game. SEGA previously had a deal with Alton Towers for use of Sonic the Hedgehog in the Toyland Tours dark ride. A Sonic the Hedghog animatronic featured in one of the ride's scenes along with associated sound effects and music. However, the ride was closed for refurbishment at the end of 2004 to make way for Charlie and the Chocolate Factory: The Ride.
SEGA's sponsorship is set to end in 2013 as part of the three-year deal. It is rumoured that the ride will be moved to another area of the park and rethemed once the contract experies, as the ride was highlighted for development in Alton Towers' medium term development plan.
Opening year: 2004
Height: 56ft
Length: 470m
Speed: 37mph
Duration: 1:15
Inversions: 0
Community content is available under
CC-BY-SA
unless otherwise noted.